みなさん、こんにちは。
明日のプログラムは電子プログラムにてこちらに提示させていただきます。
静寂な癒やしを求めて。精神のデトックスにピアノの響きによる旅に出ませんか?
みなさまとお逢いできることを楽しみにしています。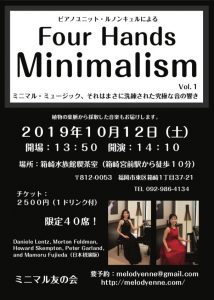 1. Terry Jennings: Piano Piece 1 Winter Trees  (1965)
Coming from a background in 
jazz
, he played piano, clarinet, and saxophones.
later began to compose in the manner of Young's early sustained-tone style.
ラ・モンテ・ヤングの影響もあり、長く維持された
「響き」に注目する。
2. Morton Feldman: Extention 3 (1952)
and 
Earle Brown
. Feldman's works are characterizedby notational innovations
that he developed
to create his characteristic sound: rhythms
that seem
to be free and floating; pitch shadings that seem softly unfocused;
a generallyquiet and slowly evolving music; recurring asymmetric patterns.
His later works, after 1977,also begin to explore extremes of duration.
アシンメトリックな音楽的パターンを静かに、ゆっくりと展開させるスタイル。
後期になると、音の存続を探求しはじめる。
Music for Philip Gustonは約5時間もの長さである。
Collected Piano Piece for Donald and  Kathleen (1968-1973)
September Song
First Prelude
One for Molly
Quavers
Simple Piano Piece
Intermezzo
Riding the Thermals
Slow Waltz
Howard While Skempton (born 31 October 1947) is an English composer,
pianist, and accordionist. イギリス出身の作曲家。
Since the late 1960s, when he helped to organise the Scratch Orchestra,he has
beenassociated with the English school of experimental music. Skempton's work is
characterised by stripped-down, essentials-only choice of materials, absence
of formal development and a strong emphasis on melody. The musicologist
Hermann-Christoph Müller has described Skempton's music
4. Daniel Lentz: 51 Nocturnes (~No.28) 日本初演JP (2011)
Gumiが敬愛する作曲家で多くの作品に度肝を抜かれた。
西海岸らしいカラフルなインストレーションも素敵。
5. Peter Garland: Walk in beauty (1989)より
Walk in Beauty, Turquoise Trail 
(高橋アキに捧げる)
ネイティブ・アメリカン教会のピヨーテ儀式とナバホ族の
精神的なヒーリング治療を元に作曲されている。
Peter Garland (born January 25, 1952 in Portland, Maine) is a composer,
writer and publisher of Soundings Press.
A student of James Tenney and Harold Budd, much of Garland's
work could beconsidered post-minimal although many of his postminimal works
such as"The Days Run Away" (1971) were written in the early 1970s
at the same timeas the first minimalist works. He is also an expert
ジェームステニー、ハロルド・バッドの弟子。
アメリカのインディアン音楽の研究者でもある。
6. Mamoru Fujieda: Patterns of Plants (植物文様)
○the 25th Collection Gamelan Cherry No.1 (2012)
○the 24th Collection in a Chromatic Field No.1 and 4 (2014)
○the 29th collection Spirites in the Large Camphor Tree    
No.1,2,3 大楠の精霊 (2019) (連弾版世界初演)
Mamoru Fujieda
 (
藤枝 守
Fujieda Mamoru
, born 1955) is a Japanese composer associated
 植物の葉脈からデータを採取し、その名の通りに植物の音楽を作曲している。
25集は桜の葉から採取したデータをもとに。24集は恩師モートン・フェルドマンの大作
Patterns in a chromatic fieldをモチーフに。29集は大楠の木から採取したデータをもとに。